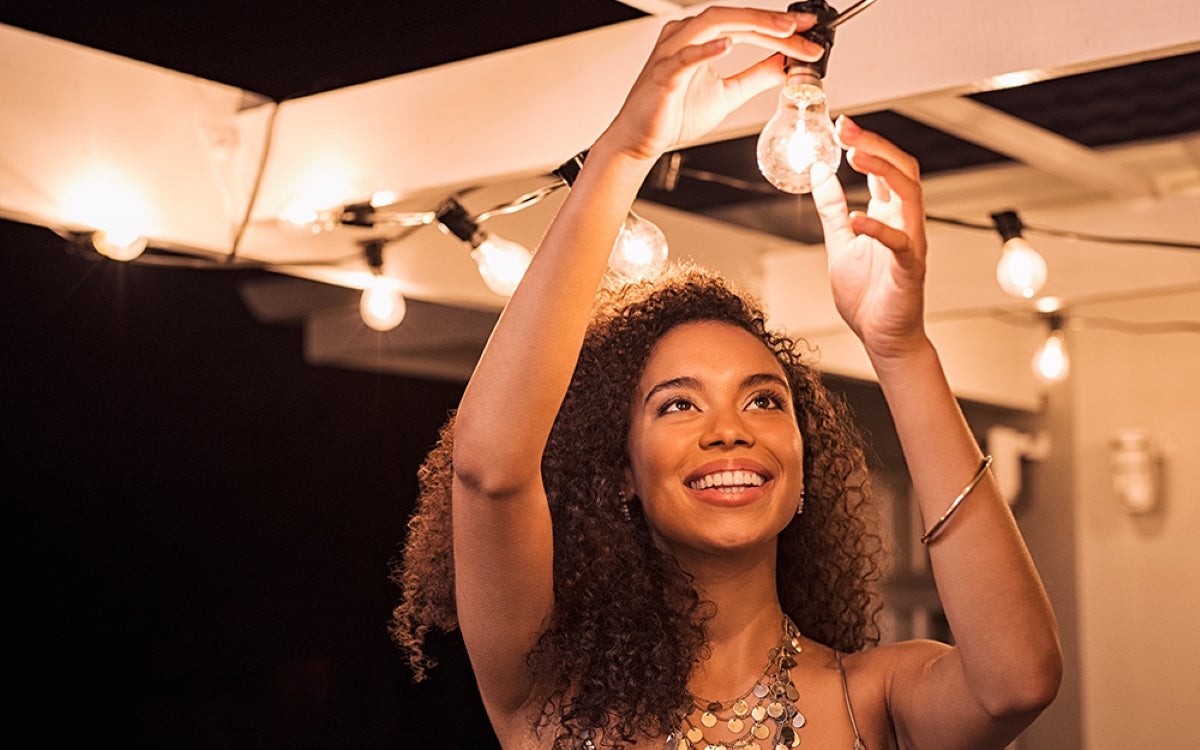 7 Steps To Installing Patio Lights Like A Pro
Turn your backyard into a bright and inviting gathering place after dark by hanging string lights. This project is relatively easy and affordable, but some prep work is required.
If your yard doesn't have walls or trees to hang the lights from, use concrete forms to sink poles in your yard at least 8 feet apart. Then, attach cup hooks to the tops of the poles to hang the light strands.
1. Determine Your Anchor Points
If you want your patio lights to look professional, they'll need support. This could be in the form of a pole, tree, fence, wall, or another structure.
If the location of your patio doesn't have a good place to hang your string lights, you can create your own anchor points with 2x2s and quick-dry cement. Alternatively, you can purchase large planter pots and use them as stand-alone hanging points.
For longer light strands, you may want to consider using guy wire. Guy lines help keep the lights taut and eliminate sagging over time.
2. Measure Your Space
When it comes to selecting the right lights for your patio, it's important to consider both the number of strands you'll need and their length. The best way to determine how many strands of lights you need is to first sketch out your patio area and measure its perimeter in feet.
Most light strands are sold in specific numbers of feet, so you'll need to determine how many strands you want to "daisy chain" together. Keep in mind that you may only have a certain amount of electrical capacity on your circuit (check out our guide to understanding your home's electricity). The last thing you want is to run out of lights before you finish the project!
3. Choose the Right Lights
Whether you want your lights to circle your patio, zigzag across your pergola or be arranged in some other configuration, it's important to choose the right lighting for your space.
Look for commercial-grade string lights marked for outdoor use and consider upgrading to LED strands. This type of lighting uses up to $330 less in energy costs than traditional incandescent light bulbs over the course of one year.
For the simplest installation method, look for hooks or hangers that attach to a pole, which can then be driven into the ground. These can be especially useful if you don't have natural support in the area where you're installing patio lights.
4. Connect the Lights
A string of lights can make your patio feel like a fairy tale, adding the perfect ambiance to transform it into your favorite night time hangout. However, before you can start hanging the lights, it's important to take some time to plan out your project.
Start by determining how long you want your light string to be and purchasing accordingly. It can be frustrating to realize that a string isn't long enough midway through installation.
Enlist a helper to hold the plug end of your first string light (or an extension cord) near the outlet that will power it. Then, stand on a ladder and feed the lights through each cup hook.
5. Hang the Lights
A little bit of work can transform your backyard into a magical setting for relaxing and entertaining. With a few supplies and a little know-how, you can hang a set of patio lights to turn your outdoor space into a favorite night time hangout.
Before you begin, decide how you want your lights to be arranged. Do you want them to go around the perimeter of your patio, zigzag across your pergola or other structure, or be arranged in some other way? This can help determine how many sets of lights you need.
6. Attach the Lights to the Cables
Using a tape measure, determine the distance you want your lights to span. If possible, try to make a rough route of them (including any zigzags or crisscrosses) to get an idea of the number of strands you will need.
Once you have your anchor points established, begin to affix hooks. Some people prefer to use zip ties, while others use hooks that are specifically designed for hanging patio string lights.
You may choose to add some colored light strands as well for a more subdued and moody look or for a fun, festive holiday feel. Just be sure not to connect these strands end to end.
7. Plug in the Lights
Nothing beats cafe-style string lights for quickly adding cozy ambiance to your patio. However, this type of lighting requires certain steps to be put up correctly and provide the type of look you want.
Before you begin, plan your light configuration by running a tape measure along the route you'll be hanging them on to get an idea of how much length you'll need. This will help you avoid overbuying string lights or having them stretch too long between anchor points. Also, remember that any permanent installations should always be done by a professional for safety reasons.